NOTE: This is a repost, but it is a story that takes place in Rockport MA, which is where I'm heading, so I thought you might enjoy it! XO Suzy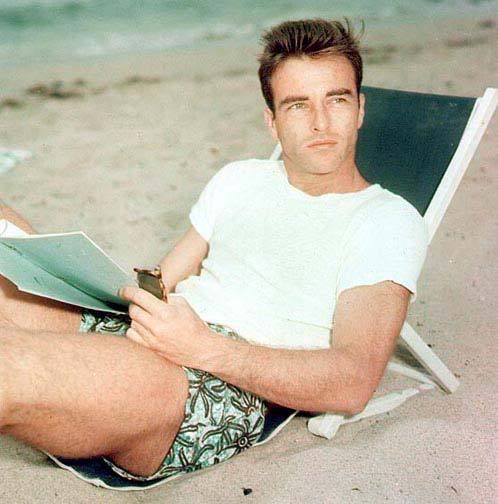 Yesterday my mother called me to relay a message from a dear, old friend. Older than me, he was the "older" man I was in love with from sixteen until... oh well, you know. It wasn't a crush that could have ever materialized. Not only was he a grown up man when I first met him, but he was also Montgomery Clift like in many ways. I had (and still have) hero worship for him.
And he was kind. Always so kind to me. We grew to know each other in a summer place, where the rocks of Massachusetts loomed against a cove. I am sure the mineral components of that water took on magical proportions. I can still see him there, standing on a high rock, making his body arc and dive into the deep, deep ocean. He shined.
And I remember that afternoon, on the stone porch of the summer house, while I played guitar (badly) and tried to be someone I wasn't as he swung in the hammock with a drink and convinced me, silently, that who I was was better than anyone I could ever lie up.
Anyway, he called me Suzannah with the "h" on the end as if he knew already it was my secret wish, to have that softness on my name.
I haven't seen him in almost twenty years, and still he asks about me.
My mother just got back from her summer stay at that house by the ocean. She still goes, every year. I don't go. I have many reasons. Some things have to stay in the past. They stay sweet and pretty that way. My grown self could muck up those memories and I won't chance that because those summers are my safest, sanest places to run to in my head when the crazies come.
She called me on the phone to extend an invitation from that old dear friend. She said he was excited to hear about my writing, and that he'd just bought home in New York and wanted me to come and stay with him for a bit... to write.
My mother described the house as he must have described it to her. Old and charming. Big windows, a lot of light. A third floor studio type space. I visualized it in my head, the sun streaming in the windows, I could hear the quiet.
She told me he said he would only bother me when it was time to eat. That he would yell up the stairs "Suzannnah! Dinner's ready." Imagine. Someone calling
me
down to dinner.
I let out a long sigh on the phone. "Give me his email..."I said.
"But don't you want to go?" she asked.
"I can't." I said.... and she knew it.
It isn't because of the three children. It isn't because of the full time job. It isn't because of spousitis . It is more complicated and simple than that.
I can't go because I can not (at this point in my life) immerse myself in the
other
option. The option I chose to veer away from when I decided on normalcy instead of bohemianism.
I can't go because I am afraid of what could have been, and of what could possibly become, if the quiet peacefulness and soft attention from a beloved and accepting person should penetrate the armor I wear so fiercely.
But the option? The tantalizing lure? Oh my. It is truly crazy making.
For now, I will email him and ask him to visit my world. Maybe in a few years, maybe then I can visit his.
(Update: I have been back. And I have seen this wonderful man. And I have shaken out most of these demons. But still... that time in my life was the beginning of ALL the magic.)