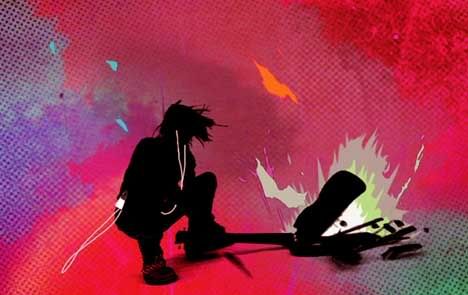 When I was a little girl I threw tantrums. I
ran away
too...
My mother, forever patient and amused, simply sent me to my room and allowed the destruction to ensue. A knock on the door and a pretty smile later let me know I had to clean it up or never see the light of day again.
For clarity I will explain the extent of the chaos. See this: small for my age (but clawed), by the end of my rampage my mattress laid bare my books everywhere, my lightbright confetti my Lego carpet. The curtains came down tied in knots with clothes off their hangers. Apocalypse. No exaggeration necessary.
It got so bad my mother's hippie friends made me a pillow out of denim. Triple stitched and labeled "Suzanne's Mad Pillow." The purpose was to give my belongings a break.
As IF.
I grew out of the tantrums. The world wore me down. Somewhere along the way I became a "yes" person. My six year old self tantrumed inside my head, knocking the left and right brain together. "It's too hard to clean up the mess!" I yelled. And then secured her lippy, sharp toothed mouth with duct tape. (that's what happens to oppressed tantrum throwers, we go a little loony... quietly mapping out the destruction of all things stupid.)
Fast forward. I am a mom, a wife, a teacher. On the fast track to all things American Dreamy. House, dog, garden. yeah yeah yeah blah blah...
And then... I have a tantrum. And the tantrum comes out on the keyboard. And the tantrum creates a novel. And two and three and....
And the tantrum will set you free.
I am one happy lady now. Sending opinions and pens flying. Pencils stuck in my hair and notebook paper bombs scattered everywhere. I scream in my car and I laugh( a real laugh) with my kids. My six year old self is proud, and my writing has never been better.
How about you? Had any productive tantrums lately? Ahhhhhhh.... I think. I'll have.... one...right...NOW!!!!!!!!!!!!!!!!!!!!!!!!!!