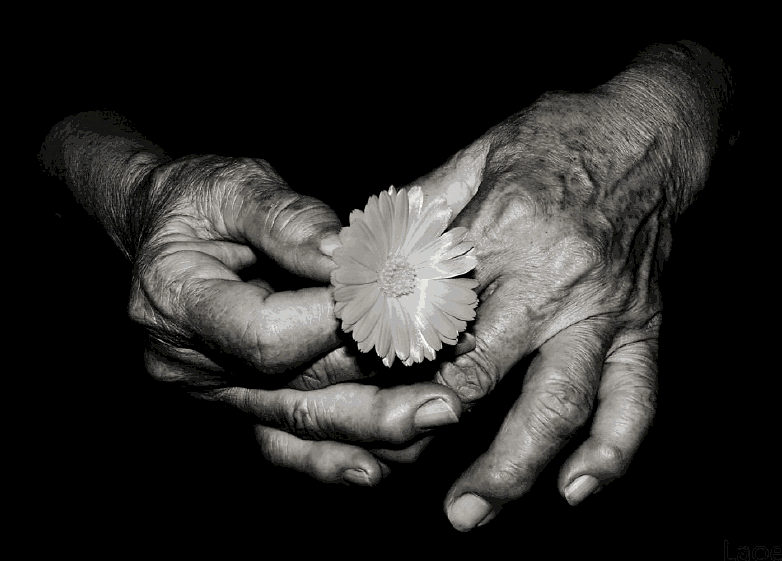 *photo credit (
wyonini
)
When things change in my life, I tend to look at my hands. A quirk, I suppose. I examine them, see how they've weathered. I marvel at the skin, a history of me. Hands tell stories. I can't help but think about the women who came before. The women I share history with.
Rosalina's hands held her pregnant belly steady against a rocking ship that took her to America where she found her future. Those hands held nine newborn babies to her breasts. Her hands closed the eyes of one of them and prepared it (tiny hands and all) for burial. They cooked meals, dressed wounds, broke chicken necks, and wiped away tears and snot. They prayed. They sewed. They aged.
Fanny's hands were fine hands, well manicured and spoiled. They roughened as life unfolded and took unexpected directions. Fanny tried to hold the doors shut, but the wood splintered beneath her hands and rather than walk into the storm, she returned to a well worn life and betrayed her red nail polish and rose water fingers.
Sadie's hands were wild. They flew about the world telling stories. They held cigarettes and pencils, markers and paint. They held beer steins in Europe and dipped french fries in milk shakes. They flung open windows to see if he was driving toward, or away from her. They gave more comfort than she could ever know. A careless caress with one hand, a smoothing back of hair over and over as her restless child tried to find sleep while the other hand got lost in the pages of glossy magazines.
My hands were soft and childlike for too long. They had a thick writing callous that I can still feel and am proud of. They tried not touching people. They danced across the features of a surprise child and learned love. They wandered. My hands typed out novels, they punctuated lazy, drunken summer afternoons with funny stories and memory making moments. They braid hair, they wash dishes, they hold coffee cups, they ball up while I sleep.
Surprise child has grown up hands now too.... and they are beginning to show signs of her history. They comfort sisters, make and bake and mix. They tie knots in ropes and tack one way or another out at sea. She has a writing callous too.
Right now I look down. Dry, quiet, old lady hands.
Time for a manicure.